The Dark Descent: Soundtrack
Comments

7
107pages on
this wiki
Do you see this page, Weyer? It deserves so much more!

This article is a stub. You can help Amnesia: The Dark Descent Wiki by expanding it.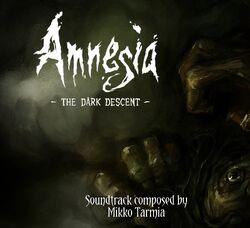 The soundtrack for Amnesia: The Dark Descent was composed by Mikko Tarmia.
The soundtrack is available for purchase through Frictional Games' digital store.
Track List
Edit
The phrase "Lux Tenebras" is Latin and translates to "After Darkness". It is played during the revenge ending.
Lux Tenebras was a working title for what was to become Amnesia: The Dark Descent.
The Menu Theme is also played in the Choir.
The songs Theme for the Unknown and Brennenburg Theme are both made by Mikko Tarmia, but were never in the game.