Do you see this page, Weyer? It deserves so much more!

This article is a stub. You can help Amnesia Wiki by expanding it.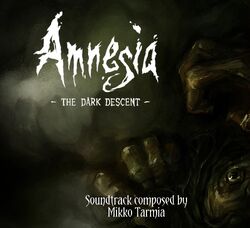 The soundtrack for Amnesia: The Dark Descent was composed by Mikko Tarmia.
The soundtrack is available for purchase through Frictional Games' digital store or directly from Mikko on Loudr.
Track List
Edit
The phrase "Lux Tenebras" is Latin and translates to "The Light of Darkness". It is played during the revenge ending.
Lux Tenebras was a working title for what was to become Amnesia: The Dark Descent.
The Menu Theme is also played in the Choir.
The songs Theme for the Unknown and Brennenburg Theme are both made by Mikko Tarmia, but were never in the game.
The song Back Hall is different from the version that actually plays in the game.
The song Basement Storage is longer than the version that plays in-game.
Ad blocker interference detected!
Wikia is a free-to-use site that makes money from advertising. We have a modified experience for viewers using ad blockers

Wikia is not accessible if you've made further modifications. Remove the custom ad blocker rule(s) and the page will load as expected.