The Chinese Room Limited (formerly thechineseroom Ltd.[1]) is a British independent video game studio, best known for making experimental first-person adventure games, such as the Half-Life 2 mod Dear Esther, as well as its full-fledged remake.
Information
Edit
The Chinese Room originated as a mod team for Half-Life 2, based out of the University of Portsmouth in 2007.[citation needed] Their name is taken from the Chinese Room thought experiment. Some of the key people in the group include Dan Pinchbeck, and Jessica Curry. The Chinese Room's first three projects were mods for Half-Life 2, named Antlion Soccer and Dear Esther, and Doom 3 mod called Conscientious Objector. The modding project was backed by the Arts and Humanities Research Council. Of these, Dear Esther became a cult. In 2009, The Chinese Room developed Korsakovia, which was a survival horror mod.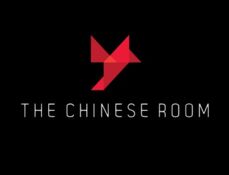 After Korsakovia, The Chinese Room worked with Robert Briscoe to develop a remake of Dear Esther, this time as a full-fledged video game title, distributed through Valve Corporation's Steam distribution service. This stand-alone version of the mod received several IGF nominations, such as the Seamus McNally Grand Prize, Excellence in Visual Arts and Audio, and the Nuovo Award. It finally won for Excellence in Visual Art. The remake featured improved graphics, but was based on the same engine as the previous mods, Source. The game was released in early 2012 and recouped its $55,000 investment in less than six hours of release, when 16,000 copies of the game were sold. One week after launch, the game reached 50,000 copies sold, and is now considered a cult hit.
In February 2012, The Chinese Room announced that they were developing Amnesia: A Machine for Pigs, a survival horror game and the indirect sequel to Amnesia: The Dark Descent. This project was co-produced and published by the makers of the original game, Frictional Games, and was released on 10th September 2013.

On August 11th, 2015, The Chinese Room released Everybody's Gone to the Rapture for the PlayStation 4, another first-person adventure art game that was backed by the Arts and Humanities Research Council. In it, the player explores a small English town whose inhabitants have mysteriously disappeared. The game went on to win multiple BAFTA Games awards for its sound design and music, as well as for the performance of actress and voice actress Merle Dandridge in her role as main protagonist Katherine Collins. It was ported and released for PC on 14 April 2016. As of 2016, the team is working on Total Dark, an isometric RPG set to be released for PC sometime in the future.
Conscentious Objector (Doom 3 mod) (2008) - Windows
Antlion Soccer (Half-Life 2 mod) (2008) - Windows
Dear Esther (Non-commercial and free to play) (2008) - Windows
Korsakovia (Non-commercial and free to play) (2009) - Windows
Dear Esther (Remake) (2012) - Windows, Mac OS X, Linux
Amnesia: A Machine for Pigs (2013) - Windows, Mac OS X, Linux
Everybody's Gone to the Rapture (2015) - PlayStation 4, PC
Total Dark (TBA) 
References
Edit
↑ Welcome to the New Us Blog post by Jessica Curry posted on 11th June 2013 - Archive.org snapshot from Jan 4, 2014