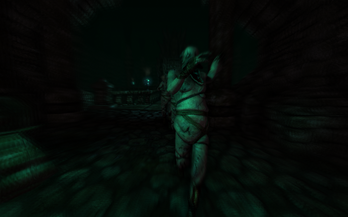 Running
is one of two ways to avoid being killed by the monsters around
Brennenburg Castle
 in 
Amnesia: The Dark Descent
, the other being
hiding
. In order to run, hold down Left Shift.
The running mechanic also returns in the games Amnesia: Justine and Amnesia: A Machine for Pigs. The tips presented on this page mostly apply to The Dark Descent, but in some cases may be useful for the later games as well.
Monsters will not chase you through loading screens (With one exception). If you have a clear run to a door that leads to a loading screen, go for it. Doing this is an absolute necessity in some parts of the game.
Don't try to fortify an area when a Gatherer is chasing you. It will get you before you finish or tear it down no matter how big.   
Make sure you're as Healthy as possible! If Daniel is badly injured he will not be capable of sprinting away from danger. Use Laudanum if he is barely conscious before you run.
Don't panic, or your chances of escape will shrink to zero.
Avoid looking back at the monster while running from it, as this will slow you down significantly.
Running makes much more noise than hiding, so only run if the monster has spotted you.
If you want to run, but a monster is in your way, wait until just before they swing at you, then jump to the left or right. This often causes them to miss and allows you to run past them.
If you find yourself trapped in a room with only one door with an alerted monster on the other side, you can still escape. After breaking down the door, the monster must wait a second to attack again, giving you the opportunity to sprint past it. Doing so is risky, but often the only option.
Turn your lantern off! There's usually just enough light to see where you're running, so turning off your lantern makes it much more difficult for the monster to keep track of you.
Try to cut corners and take the most direct route down passageways to avoid injury from your pursuer.
Don't forget to close doors behind you, if possible. The monsters all move faster than Daniel can. It's necessary to slow them down if Daniel is to have any hope of surviving the encounter.
You will know you have been seen by a monster when you hear the Terror Meter. This is your c

If you are close to the enemy to where you will get killed, run until you find a hiding place.

Added by

Wilhelm von Gerich

ue to run. Don't run unless you're certain the monster has seen you, otherwise you might idiotically run straight into it or alert it of your presence.
Inversely, when the terror music stops, the monster has lost sight of you. Take this as an opportunity to find a hiding place (or just keep running, making a large space between you and the monster).
Do not attempt to pick up items that would slow down your flight - you can always come back for them later.
If you hear the Gatherers snarling and swinging at you, it's directly behind you! Head for the nearest exit if you can, but don't use doors that open outwards or you'll be dead.
If the Gatherer hits you, don't stop, it will slow down for a while before it chases you again. If Daniel is healthy, he can take two hits before he dies, don't panic when the screen turns to red, use Laudanum to increase your chances, find a place to hide, or find the nearest loading point.
Look where you are running to. Try to pay attention to your surroundings, otherwise you may just sprint down into a dead-end, literally.
Do NOT attempt to fight the gatherers. You cannot kill them, but they can kill you. When you see one, run away and/or hide.  
Moving in a zig-zag pattern may slow down your running speed, but it reduces the Gatherer's accuracy and it will often miss when it's trying to hit you.
If you are running from the Gatherer, sometimes it can charge towards you if you're far enough, but still in its sight. It's best if you run until you're out of sight.
The Brute and Suitors can run faster than the player, so direct running from them is usually not the best option.
Whenever a Manpig spotted you, you won't hear the Terror Meter blaring, instead the Manpig will let out a high-pitched pig shriek. This is your cue to run, however since Manpigs can outrun you easily, it is highly advisable that you stay in dark areas to hide, as Oswald does not losing sanity in the dark unlike Daniel.

Regrettably, you may find yourself in a situation where Daniel is not able to escape the threat. It's important to recognise when escape is impossible and not waste Laudanum needlessly, otherwise you will respawn without the Laudanum that was previously and wastefully used.