The Refinery is a room in Brennenburg Castle that can be accessed from the Entrance Hall. It was featured in the Demo, as the second of the three areas included. It is the seventh area explored in the game and the last accessible from the Entrance Hall.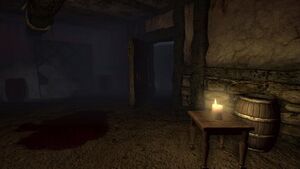 Information
Edit
To enter the Refinery, you must find the ingredients for the acid, and pour it on the organic residue preventing you from entering, dissolving the tissue and making the area accessable. The Refinery is also the first areas where you encounter a Grunt. It won't chase Daniel unless he quickly runs in front of it. It doesn't attack in the demo however, for it will vanish if the player chooses to run directly to it.
The Shadow has forced its way into this area under the castle. Massive holes with a lot of organic matter are visible above. Don't be alarmed if it roars where you pass the spot where you saw the grunt walking past. Fleshy residue is in random places in every room. Watch where you step, to avoid taking damage on the organic matter.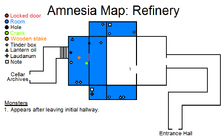 There are six rooms to be explored after the room with the Servant Grunt and the barrels. Tinderboxes, oil, diary entries, Laudanum and Notes can be found in these rooms. Daniel will experience several unsettling events here, such as hallucinating a gatherer trying to break down a door, or the Shadow blowing open a door with a roar. In the room with the large dining table, the door to the sixth room is blocked. This can be bypassed by a small entrance covered in boxes. You will have to crouch to get in. After that, room is accessible. Now you must dislodge the piece of wood from the pulley system. Attempting to will say you need to get higher. So get some boxes or a chair and then pull it back and forth until it breaks. Alternatively, you can grab a chair (or anything sturdy) and throw it at the piece of wood, which will then break. Then open the hatch to access the Cellar Archives.
In reference to a Frictional Games commentary from Thomas Grip; the Refinery, at first, was called the Distillery, even though it was the wrong name for this level. You can see that this map's filename says 06_distillery.