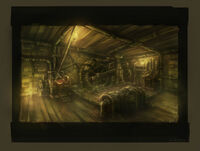 The Machine Room is an area accessed through the Back Hall. In order to access it, you must find a key in the Guest Room. It is the fourteenth accessible area in the game.
You need to explore these rooms to activate the machinery that powers the elevator to the Prison.
Information
Edit
This is a safe room, so Daniel won't encounter any enemy (Shadow excluded).
Walkthrough
Edit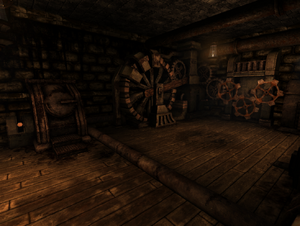 To activate the machinery you have to: stabilize the steam pressure, insert the rods in the right holes, fill the  burner with coal and put the cogs on their place. These operations can be done in any order.
Steam pressure: you should find yourself facing a console with six levers and roman numbers above and below them. The solution is to pull the levers that add to 8 both up and 8 down. A correct configuration can be (from left to right): first, second and sixth Down and the others (third, fourth and fifth) UP. The solution is hinted in the note "Elevator Machine Instructions".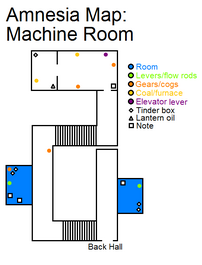 Rods: the console has three holes and "Tractatio Fluxus" written above. The Flow Cycle Rod fits into the circle hole, the Trinity Stream Rod in the triangle one and the Four-phase Amplitude Rod in the square hole.
Powering the machine: first you must fill the burner with coal. The burner is on the left on the machine and the coal is stashed in an adjacent room. Three chunks will do the job. Once filled, a message will pop up, then pull the lever on the left of the burner. Now you must find three cog wheels and put them on the poles, right from the burner. One wheel is found in the rods room, on a small table in the corner, at the right of the console. The second one is right in front of the door of the rods room. The last one is in the machinery room, at the entry door's left. Just lift each wheel and bring it on the empty spots and they will fit in automatically. Now you just have to pull the lever and the machinery will start to work.
Once all the tasks have been completed to start the elevator, the Shadow will invade this section of the castle.
As Daniel explores this area the Shadow can be heard roaring constantly in the distance.