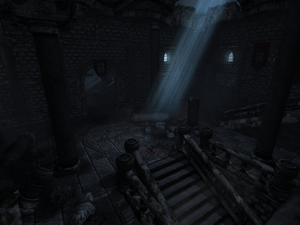 The Entrance Hall, as the name suggests, is Castle Brennenburg's main entrance connected to the Old Archives. It is the third location visited and the first Hub level found in the game. Daniel must gain access to the Refinery in order to move further into the bowels of the castle.
Information
Edit
The Shadow obstructs the main gate (making it impossible to escape from the castle) and the path to the Refinery. Once the player prepares the corrosive solution, the organic matter can be dissolved, giving Daniel access to the Refinery. Curiously the solution has no effect on the Shadow's residue on the gate. This is most likely because the residue covers a large area, unlike the Refinery entrance, which is only partially covered.
The Entrance Hall gives access to several other locations:
The Entrance Hall is in a state of decay during the time location of the game. Some pillars and a staircase have collapsed, there's a hole in the ceiling and some doors are mysteriously boarded up, most probably by Alexander's servants who were reinforcing weaker structures that the Shadow threatened to collapse.
The Shadow gradually consumes this area as Daniel makes progress. This happens when he obtains the Wine Cellar key from the Archives, the ingredients in the Wine Cellar itself and finally creates the acid solution in the Laboratory. The cosmic force roars angrily and the corridors leading to these three areas is engulfed in its fleshy matter, making it hard to avoid injury.
When going up the stairs for the first time, Daniel will hear a female voice saying 'No! Get away from me!' and look immediately at the direction where the voice apparently came from. The voice is identical to the girl's voice whom Daniel stabbed to death in the Storage.