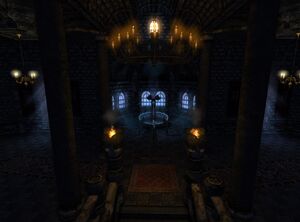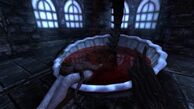 The
Back Hall
is the tenth room explored by
Daniel
in
Brennenburg Castle
, and the second Hub level.
Information
Edit
The Back Hall is the section of the castle reached after the escape from the Kaernk in the Archive Tunnels.
In the middle of the room there is a fountain with some disturbing features, the spout being a winged centipede with a baby's face, and a pair of disembodied legs hanging over the edge. After exploration of the side rooms, a small corpse will be resting on top of the legs (in low sanity).
The Shadow will invade this hall after Daniel finishes exploring the Storage, and along with filling the room with the fleshy residue, it will turn the fountain's water into a red fluid, probably blood. After repairing the Elevator in the Machine Room the screen will go black. Daniel's vision is then restored to find that the Shadow has blocked the way back to the Hall, making retreat impossible.
Locations
Edit
The Back Hall is a safe room and several sections of Brennenburg Castle can be accessed from here. These locations are: